A growing team is a clear sign of success. It means there are enough leads coming in that you need more agents to handle them all. Of course, this is also a clear sign that your management processes are about to get a little more challenging, too.
As the team manager, it's your job to make sure every member of the team is performing up to expectations. But there's more to it than that.
Ask yourself:
Are my agents following up on all the expensive leads?
Is every agent managing complex closings and seller onboardings properly?
Do I have a grasp on the overall health of my business?
If you're not sure about the answers to these questions, or if you think you could improve performance in some of these areas, it may be time to look at some new automation and management options.
Over the years, we've heard from many team leaders about the need for new ways to effectively manage their teams. Many agents have also expressed a need for well-defined, lead-created processes and tools that can manage their deal flows as efficiently as possible.
At the same time, managers need to be able to keep their agents on track and following the tried-and-true processes that have been developed and established over the years. They also need control over the details of the system, so they can provide more or less visibility into the process, based on what the agents really need to be successful.
Implementing ONE Solutions
iHomefinder ONE provides a number of tools and processes that allow agents, team leads, and business owners to streamline their efforts and overcome the challenges that naturally accompany team growth.
ONE equips you with a Team Lead Dashboard, an Agent Dashboard, and the tools to manage your business. Each of these aspects offers a number of important benefits.
The Team Lead Dashboard
ONE allows you to implement your own action plans to ensure that every team is following the established best practices, which, in turn, can help them see repeatable success. This can also help them understand your management style and processes, so there's never a question about your expectations.
The Team Lead Dashboard can help drive team performance and track exactly who is following up on leads and who isn't. This ability to track performance also opens up the opportunity to more accurately forecast revenue.
You can also make sure the right leads are distributed to the right agents while managing overall group visibility (i.e. team members only need to see the leads in their own groups). You can set up email notification rules, create simple round robins to evenly and automatically distribute leads (when you have no lead routing preferences), and assign an Agent on Duty to make sure that someone automatically receives all the leads from specific sign-up forms.
The Agent Dashboard
Arm your agents with the ability to track contact activity, call notes, tasks and appointments while they set automated follow-ups and gather insights from client IDX activity on the website. You can make it easy for them to see the viewed listings, preferred price ranges, and desired locations so they can contact each lead with enough information to make an effective approach.
This dashboard shows current prospects, contacts, their contributions to the overall company goals, and more.
The Business Management Tools
How is the lead flow on your team? How is each agent contacting and nurturing them? Are they moving toward an inevitable transaction?
As your team continues to grow, many processes are going to become more complex. The right tools, though, can minimize the potential confusion and keep things moving forward.
ONE gives you the insights to know the status of every lead and every deal. You will have a high-level overview of the business at your fingertips so you can track closed business, analyze your lead sources, optimize your marketing strategy, and, most importantly, plan your future growth path.
Free Consultation
Do you want to see ONE in action? Contact us today and discover a new way to manage your agent team.
Introduction to ONE
iHomefinder ONE provides agent teams and brokerages with a powerful sales and marketing platform unlike anything else on the market.
You can add ONE to your own website or get an elegant real estate website included with ONE. It's your choice.
Platform for Success
Once you've used ONE, you won't know how you managed without it. If you haven't already checked it out, take a look and contact us to schedule a product tour.
Real Estate CRM
Nurture relationships by tracking all contact activity, call notes, tasks and appointments.
Business Dashboard
Plan your growth with revenue forecasting. Consolidate your leads to track their status. Optimize your marketing spend with campaign analysis tools.
IDX with MarketBoost
Position yourself as the local expert with industry-leading search and market activity reporting.
Lead Generation
Choose your budget and scale your lead flow in a predictable manner to meet your business goals.
We're Here to Get You Up and Running
After you sign up for ONE and provide your business details, our setup team will complete the following services within 30 days. Then it's time to launch your new sales and marketing platform!
SETUP SERVICES
Here are the details for each phase of your account setup, all completed for you by our setup team:
LEADS
Import your leads
Assign leads to your team
Segment leads into location-based groups
WEBSITE
Setup your ONE real estate website on WordPresss
Customize your site with your logo and contact details
Add your local Market pages to your site navigation
Build your "About Us" page
Setup your website domain name
IDX
Set up your featured listings for display
Configure your lead capture/user registration options
For teams and brokerages, we'll create your team logins and bio pages
MARKETS
Create your market area pages
Add your leads to MarketBoost email reports
CRM
Create your default action plan (repeatable workflow)
Add your drip email campaigns
Customize your email stationery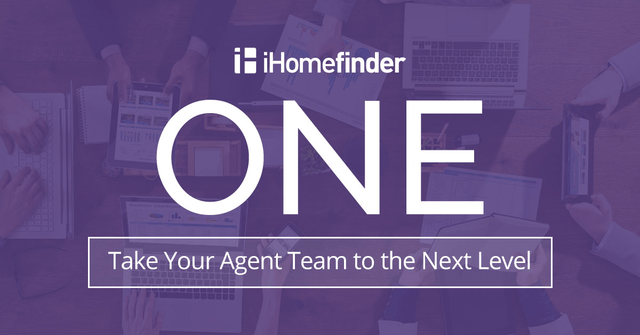 iHomefinder is now delivering CRM, IDX, and lead generation in a single package – we simply call it: ONE.
There's a point where running a team of agents can feel overwhelming, and dealing with the everyday minutiae becomes too complex and time-consuming. ONE was designed to counter these situations by automating as much as possible without losing the human touch and personalized attention that home buyers and sellers expect.
When coupled with Lead Generator, this suite of products can help successful agents and agent teams acquire more leads and manage them all the way through to close.
It doesn't end there. Agents will also be able to keep their clients engaged throughout the entire process with engaging listings-based content far after the transaction keeping you top-of-mind!
Start with a Dedicated and Fully Integrated Real Estate Sales and Marketing Platform
Customer relationship management (CRM) software is employed in many different industries to manage and improve interactions between a business and its potential customers.
In the real estate industry, where relationships are the cornerstone of success, you need more than a generic CRM. You need something that was designed specifically for you.
iHomefinder allows you to build and nurture customer relationships by leveraging the sales and marketing tools needed to keep your prospects and clients engaged. Our products include:
Real estate website – You can deploy ONE to your current WordPress site or get a customized solution that is elegant, professional, and ready to launch.
Lead Generator – Acquire traffic and leads directly to your website. This will help keep the flow of leads directed into ONE.
IDX – Engage, convert, and close your leads with a user-friendly property search, optimized display listings, and properly configured lead capture/user registration options.
CRM – Create an action plan and add your drip campaigns and customized email templates into the system so you can keep your leads engaged from the moment they've filled out a form and far beyond the closing.
You can even keep in touch with past buyers and continue to develop relationships through up-to-date market information that is relevant to their budget and location by using MarketBoost.
This kind of market information is available to you because we work with hundreds of MLSs and present it in a format that is easy to understand and use. And when you have that kind of data at your fingertips, you can become the local market expert that buyers and sellers need in competitive times like these.
Gain Insights and Plan for Success
iHomefinder ONE gives real estate professionals a consolidated business dashboard with an all-encompassing view of the business from lead generation all the way through to transaction-closings.
This dashboard presents the analytics and information you need in a simple, graphical way so you have instant visibility into your team's performance and insight into buyer activity.
You will be able to manage the leads that are hitting the website, the conversions happening on the site, as well as the activities your agents are conducting with buyers and sellers through to close.
As you identify your top performers, you'll be able to use the lead aggregation and task management functionality to the right team members are getting the right leads.
Let's take a closer look at how these features benefit your team.
What Can You Do with ONE?
In this single solution, you will get:
Time-saving features that can help your entire team work more effectively.
Intuitive tools, right out of the box, that make it easy to set up and run ONE.
A business dashboard that lets you focus on lead source analysis and the transaction pipeline.
Instant insight into the status of every lead and every deal, which contributes to more effective goal tracking
An easier way to optimize marketing strategies by identifying the most profitable leads, where they came from, and how/why they chose you.
The ability to forecast revenue so you can make informed decisions about your agencies budget and growth.
By combining CRM, IDX, lead generation, and professional websites with an intuitive and detailed business dashboard, individual agents and agent teams can do so much more.
Agents will be able to:
Organize contacts
Manage activities and schedule tasks
Automate marketing efforts, such as email campaigns and drip marketing
Manage the pipeline
Agent teams will be able to:
Understand the overall performance of your business
Roll out basic lead routing capabilities
Implement better agent accountability measures
Grow and Develop a High-Performing Team
As your team grows, things can become more hectic and chaotic.
The processes you once relied on are no longer as effective. Balls are dropped, leads are lost, and bureaucracy increases.
You need a new solution that can handle the everyday minutiae without adding new layers of complexity.
You can take your agent team to the next level with ONE.
Free Consultation
Contact us today to schedule your free consultation and learn how you can nurture relationships, automate follow-ups, and gain new insights into every aspect of your real estate business.