How iHomefinder's ONE CRM Can Take Your Agent Team to the Next Level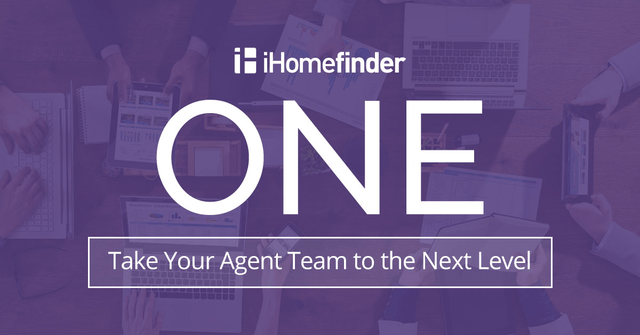 iHomefinder is now delivering CRM, IDX, and lead generation in a single package – we simply call it: ONE.
There's a point where running a team of agents can feel overwhelming, and dealing with the everyday minutiae becomes too complex and time-consuming. ONE was designed to counter these situations by automating as much as possible without losing the human touch and personalized attention that home buyers and sellers expect.
When coupled with Lead Generator, this suite of products can help successful agents and agent teams acquire more leads and manage them all the way through to close.
It doesn't end there. Agents will also be able to keep their clients engaged throughout the entire process with engaging listings-based content far after the transaction keeping you top-of-mind!
Start with a Dedicated and Fully Integrated Real Estate Sales and Marketing Platform
Customer relationship management (CRM) software is employed in many different industries to manage and improve interactions between a business and its potential customers.
In the real estate industry, where relationships are the cornerstone of success, you need more than a generic CRM. You need something that was designed specifically for you.
iHomefinder allows you to build and nurture customer relationships by leveraging the sales and marketing tools needed to keep your prospects and clients engaged. Our products include:
Real estate website – You can deploy ONE to your current WordPress site or get a customized solution that is elegant, professional, and ready to launch.
Lead Generator – Acquire traffic and leads directly to your website. This will help keep the flow of leads directed into ONE.
IDX – Engage, convert, and close your leads with a user-friendly property search, optimized display listings, and properly configured lead capture/user registration options.
CRM – Create an action plan and add your drip campaigns and customized email templates into the system so you can keep your leads engaged from the moment they've filled out a form and far beyond the closing.
You can even keep in touch with past buyers and continue to develop relationships through up-to-date market information that is relevant to their budget and location by using MarketBoost.
This kind of market information is available to you because we work with hundreds of MLSs and present it in a format that is easy to understand and use. And when you have that kind of data at your fingertips, you can become the local market expert that buyers and sellers need in competitive times like these.
Gain Insights and Plan for Success
iHomefinder ONE gives real estate professionals a consolidated business dashboard with an all-encompassing view of the business from lead generation all the way through to transaction-closings.
This dashboard presents the analytics and information you need in a simple, graphical way so you have instant visibility into your team's performance and insight into buyer activity.
You will be able to manage the leads that are hitting the website, the conversions happening on the site, as well as the activities your agents are conducting with buyers and sellers through to close.
As you identify your top performers, you'll be able to use the lead aggregation and task management functionality to the right team members are getting the right leads.
Let's take a closer look at how these features benefit your team.
What Can You Do with ONE?
In this single solution, you will get:
Time-saving features that can help your entire team work more effectively.
Intuitive tools, right out of the box, that make it easy to set up and run ONE.
A business dashboard that lets you focus on lead source analysis and the transaction pipeline.
Instant insight into the status of every lead and every deal, which contributes to more effective goal tracking
An easier way to optimize marketing strategies by identifying the most profitable leads, where they came from, and how/why they chose you.
The ability to forecast revenue so you can make informed decisions about your agencies budget and growth.
By combining CRM, IDX, lead generation, and professional websites with an intuitive and detailed business dashboard, individual agents and agent teams can do so much more.
Agents will be able to:
Organize contacts
Manage activities and schedule tasks
Automate marketing efforts, such as email campaigns and drip marketing
Manage the pipeline
Agent teams will be able to:
Understand the overall performance of your business
Roll out basic lead routing capabilities
Implement better agent accountability measures
Grow and Develop a High-Performing Team
As your team grows, things can become more hectic and chaotic.
The processes you once relied on are no longer as effective. Balls are dropped, leads are lost, and bureaucracy increases.
You need a new solution that can handle the everyday minutiae without adding new layers of complexity.
You can take your agent team to the next level with ONE.
Free Consultation
Contact us today to schedule your free consultation and learn how you can nurture relationships, automate follow-ups, and gain new insights into every aspect of your real estate business.
https://www.ihomefinder.com/wp-content/uploads/2022/02/ihf-logo-transparent-200x76-1.png
0
0
Admin
https://www.ihomefinder.com/wp-content/uploads/2022/02/ihf-logo-transparent-200x76-1.png
Admin
2018-01-16 15:17:41
2019-07-17 09:44:56
How iHomefinder's ONE CRM Can Take Your Agent Team to the Next Level