Are you ready to make a splash on social media and start landing new leads? As a real estate agent, social media can be an incredibly powerful tool for connecting with potential clients. But coming up with content ideas that will draw in your audience without being overly sales-y isn't always easy! That's why we put together this list of ideas for post topics that can give your feeds the boost they need to stand out from the competition and engage followers – no cheesy hard sells required! Read on for our top picks.
Post photos of your listings with captivating descriptions
As they say, a picture is worth a thousand words. And in the world of real estate, this couldn't be more true. With the influx of listings popping up left and right, it's more important than ever to make your properties stand out. One way to do this is through captivating photos and descriptions that showcase the unique features of your listings. Whether it's highlighting the stunning views or the sleek, modern design, each photo should tell a story that entices potential buyers or renters. So don't just snap a quick photo and call it a day. Take the time to carefully curate your photos and craft descriptions that truly showcase your property's best features.
Share tips and advice on how to make the process of buying/selling a home easier
Buying or selling a home can be one of the most stressful experiences in anyone's life. To make it less overwhelming, offer tips and advice that can make the process easier.
Here are some ideas:
Explain how you help guide clients through the entire process
Mention how friends or family can be a good source of additional insights into the process
Recommend doing research and knowing your budget before jumping into the market
Emphasize the importance of patience and not rushing into any decisions
Highlight local businesses and services that can help potential buyers and sellers
You can help support services in the communities you serve by recommending them to buyers and sellers. There is a multitude of options available that can help make the process much smoother. From home inspectors to mortgage brokers, local professionals are equipped with the expertise and insights buyers and sellers need to make informed decisions. Additionally, using local businesses for home repairs, landscaping, and other services can be a win-win situation for both parties, ensuring that your money stays in the community and helps support local economic growth.
Provide real estate market insights and news updates
The real estate market is always abuzz with activities and events that shape the industry. From changes in interest rates to national housing policies, the market can be volatile and unpredictable. As such, staying informed is crucial for anyone who is looking to buy, sell or invest in properties. Emphasize that you are the right resource for all the latest insights and news updates in the real estate market.
MarketBoost to the rescue!
By linking to your MarketBoost reports on your website, you'll demonstrate you have your fingers on the pulse of the industry, and that you're committed to providing the most accurate and timely information to help buyers and sellers make informed decisions. Remind your readers to stay tuned for your updates on market trends, hot properties, and much more! You can also encourage readers to subscribe to Market report emails on your website, providing you with another channel for new leads.
Feature homes for sale in different neighborhoods in your area
Show buyers and sellers how you regularly scour the local market to find the best homes for sale in every neighborhood. Mention the listings you've singled out in your posts, get your readers excited, and link directly to the property details pages on your website. And you can encourage readers to visit your site to start searching on their own where they can become registered leads for you to start working.
Interview successful clients about their experience working with you
As a professional in your field, there is no greater satisfaction than hearing from your clients that they've had a positive experience working with you. Make it a point to interview your most successful clients about their journey with you. Not only does it provide valuable feedback on your strengths and opportunities for growth, but hearing their stories of achievement and progress will inspire other buyers and sellers and make them want to work with you. The trust and collaboration between you and your clients is essential to your mutual success, and these interviews only strengthen that bond.
Go do it!
So there you have it – some incredible ideas for social media posts that can you build an impressive following, attract new leads and stand out from the crowd. While posting photos of your listings with captivating descriptions, highlighting local businesses, and providing real estate market insights are all important steps in the process, don't forget to add some personality to your posts as well! Through storytelling, you can display the expert knowledge and personal touch that embodies your professional style – helping to solidify relationships and drive sales.
---
Resources
Schedule A Demo
Reserve a personal 15-minute demo & consultation with an account executive.
Free Trial
If you don't have an iHomefinder account, start your 30-day free trial which includes our Agent CRM and Optima Leads, our mobile app for agents.
Upgrade Your Account
If you have an agent account plan, you can activate the CRM in your IDX Control Panel (shown below). Underneath "Try our CRM", select the green "Learn more" button. Once activated, you can use the CRM without charge for 2 weeks.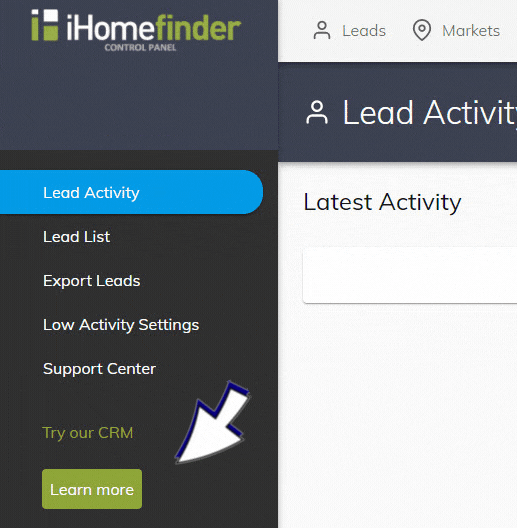 Webinars
Save your spot for our next monthly webinar for an introduction to iHomefinder account features and benefits, or watch a recording.
Support
Our Support Center is full of resources like our searchable Knowledge Base and training webinars to help you get the most value from your account.
Contact Us
Send us your questions, we're here to help!
---
Recent Articles
https://www.ihomefinder.com/wp-content/uploads/2023/04/social-media-post-ideas2.png
628
1200
Admin
https://www.ihomefinder.com/wp-content/uploads/2022/02/ihf-logo-transparent-200x76-1.png
Admin
2023-04-14 16:29:54
2023-04-14 16:29:54
Social Media Post Ideas For Agents And Brokers