If you're an agent, there are many reasons to have your own real estate website throughout your career. Regardless of which brokerage you work with at a given time, you need your own persistent online "storefront" to represent your personal brand and attract and nurture new leads.
Do you also need a real estate CRM to be successful? According to veteran real estate coaches, the resounding answer is YES – there is no question that a properly used CRM is a critical tool for managing and growing your business.
Despite all the benefits CRMs can offer, some agents haven't considered trying one because of some common perceptions about CRMs:
They cost too much
They're hard to learn
They create unnecessary work and slow you down
They're only useful for agents with lots of clients
They only come bundled with a website service the agent doesn't need
If these have been your concerns about CRMs, you'll be happy to hear that none of them apply to our Agent CRM. If you're unhappy with your current CRM or if you've decided against trying a CRM in the past, now is the time to leapfrog ahead of your old, obsolete ways of working.
We recently shared a list of 10 reasons to love our new Version 10 IDX features. Since that list was so popular, we're sharing a list of 10 reasons you'll love our Agent CRM. If you already have one of our Agent IDX account plans, this list highlights the additional benefits you can expect when you upgrade to a Premium + CRM or Prime + CRM plan.
1) Built-In IDX Integration
When you use separate IDX and CRM services that work independently, they can't share information, and that limits the capabilities of the CRM and how much it will help you. Our IDX and CRM work together as a single, integrated service to provide a truly special solution that helps you optimize your opportunities and work more productively. You'll love the benefits this brings to our CRM right now, and we have lots of exciting plans for the future. Here's a sampling of what's already possible:
Smarter Drip Email Campaigns
Our automated email campaigns are always moving your leads closer to closing with relevant listing recommendations, provided using your leads' IDX property search and viewing behavior.
Lead Scoring & Ranking
Behavioral data from your leads' IDX search activity feeds algorithms that rate and score your leads, showing you each lead's probability on a scale. This intelligence provides another tool to help you prioritize your time and work more productively.
2) IDX Website Or Plugin – Your Choice
Our CRM with IDX can be added to your own website, or you can get a ready-to-use website with everything included. We'll personalize and publish your new real estate website in just a couple of weeks!
3) Marketing Automation
Most agents and brokers have a lead follow-up problem. Studies show that countless opportunities are lost due to inadequate lead follow-up. Marketing automation solves this problem and it can be used for other engagement campaigns like open house follow-ups, referral follow-ups, and more.
You'll sleep better with the assurance that every new lead is immediately engaged with email content that has a personal touch and helps them with their property search. And you don't have to lift a finger! Just turn on the ready-to-use follow-up campaigns we provide for buyers and sellers.
Smart Content
Unlike generic drip email campaigns most agents use, you will stand out from the crowd because your follow-up campaigns deliver relevant listing recommendations and market stats based on your lead's IDX property search and viewing behavior. While your leads may think you're staying up all night to produce personalized emails with all this great custom content, you're actually out doing what you do best – closing clients.
Your Leads Stay Yours
Your campaigns send attractive and engaging emails with large photos that link to market stats and listings on your site, keeping your leads on your site and away from the big search sites and your competitors.
Here are some example of Marketing Automation in action:
After our IDX property search and lead capture converts your site visitors to registered leads, they receive personalized follow-up emails and enter an appropriate drip email campaign based on their search interests or source
Personalized recommended listings are provided in drip email campaigns, based on your leads' property search and viewing activity on your website
Market stats for your leads' search criteria are provided in drip email campaigns
Assignment Rules
Create rules that assign leads to appropriate follow-up campaigns based on their source, such as online ad campaigns and posts or third party lead generation services.
Lead Aggregation
Many agents use a variety of online services for lead generation. We have those covered, too. New leads received from over 30 third party services can automatically enter your account and your automated follow-up campaigns.
Learn More
Check out these articles for more reasons why these tools are so important for your business growth.
Introduction To iHomefinder Marketing Automation
Our recorded webinar provides an overview of how Marketing Automation helps your business.
Real Estate Follow-Up And Business Growth
Learn why immediate follow-up is so important and why Marketing Automation with Smart Content is the best drip email solution for closing more business.
Growing Your Real Estate Email Marketing
Learn how to use Marketing Automation for all your follow-up email campaign needs. Create open house follow-up campaigns that turn leads into clients, warm up new referrals, and more.
4) Custom Emails
It's easy to create and send emails for newsletters, announcements, and other purposes using our drag-and-drop email builder. You can add videos and a huge library of free images is included. When you're ready to send, you can choose individual contacts manually or select a group of contacts using filters. Learn more >
Email Feature Guide
For an overview of all the different types of emails your account can send, check out our Email Feature Guide to understand how they all work together to deliver the right content to your leads at the right time.
5) Mobile Convenience
Optima Leads, our mobile agent app, is your mobile assistant that's always ready to help you work your leads wherever you are, providing critical information and insights that help you work your leads and keep track of your business activity.
Prioritize your time using insights from your leads' activity
Plan your next steps for every lead
Update your leads' pipeline status, add tags for organization, and add time-stamped notes
Add/Remove leads from email campaign subscriptions
6) Pipeline Status
Lead Stages inform your Pipeline status to provide an overall gauge of your business performance, showing exactly how you're performing against your goals. You'll keep track of how many leads are in each stage, how close they are to closing, and where you need to prioritize your efforts.
7) Tasks & Calendar Sync
Tasks bring order to what usually feels like chaos when you're not using a CRM. Keeping track of appointments, callbacks, emails, and other daily tasks can be a real problem without the right tools. Top producing agents are successful because they're organized, they waste less time, and they make the most of every opportunity through preparation and follow-through. If you're not keeping track of what your next action is for each person in your contact list, you're not working your leads hard enough.
Working together with your To Do list, Tasks help you keep track of everything that needs to happen to close clients and grow your business. They're so important that we provide an option to sync them with your Google, Outlook, or Yahoo calendar. With calendar sync, Tasks, and your To Do list, you can quickly become a master of time management.
Learn how easy it is to put the CRM Tasks and To Do list to work for your business.
8) Blog Articles
You need to regularly publish blog articles to help your SEO, attract new prospects, and grow your sphere of influence, but most agents don't have the time to write articles. We understand that challenge, so we publish monthly articles to your blog for you when you're using our Prime + CRM account plan (our Agent CRM plan that includes a hosted website). Learn what content marketing is and why it's so important.
Social Media Content
Our provided blog content is also perfect for sharing regularly on your social media channels. By posting links to your blog articles, you'll build an audience that will browse your site, give your SEO a boost, and drive more traffic to your site over time.
9) Website Traffic
To grow your business, you need a steady stream of buyers visiting your site. With our Prime + CRM account plan (includes a hosted website), you get 30 new qualified buyers visiting your website each month who can turn into registered leads through the lead capture options our IDX adds to your site.
Traffic Boost
If you use our Premium + CRM account plan to add our service to your own website, you can opt-in to receive 60-70 visitors* per month. Learn more >
*Approximate numbers vary based on monthly availability in your market
10) Efficiency, Productivity & Business Growth
Your time is too valuable to juggle multiple systems that don't work together, leaving you with frustrating shortcomings. With all the benefits of our integrated solution, you're fully equipped for success with a single service. Like a 24/7, around-the-clock assistant, it's always there to make sure you don't miss a single opportunity, save you time, and help you sleep at night knowing exactly where your business stands and what your next steps are to meet your goals.

---
Resources
Schedule A Demo
Reserve a personal 15-minute demo & consultation with an account executive.
Free Trial
If you don't have an iHomefinder account, start your 30-day free trial which includes our Agent CRM and Optima Leads, our mobile app for agents.
Upgrade Your Account
If you have an agent account plan, you can activate the CRM in your IDX Control Panel (shown below). Underneath "Try our CRM", select the green "Learn more" button. Once activated, you can use the CRM without charge for 2 weeks.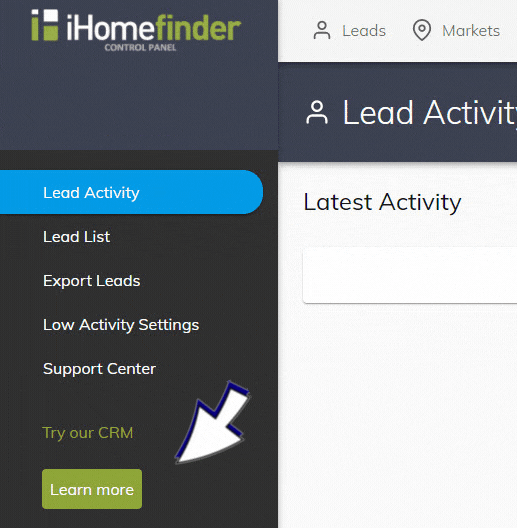 Watch A Webinar
Save your spot for our next monthly webinar for an introduction to iHomefinder account features and benefits, or watch a recording.
Support
Our Support Center is full of resources like our searchable Knowledge Base and training webinars to help you get the most value from your account.
Contact Us
Send us your questions, we're here to help!
---
Recent Articles
https://www.ihomefinder.com/wp-content/uploads/2021/08/10-reasons-crm-3.png
1199
2000
Admin
https://www.ihomefinder.com/wp-content/uploads/2022/02/ihf-logo-transparent-200x76-1.png
Admin
2021-08-24 16:59:50
2021-09-05 23:04:05
10 Reasons To Love Agent CRM