Our April 14th webinar featured guest speaker and award-winning real estate coach, Bob Corcoran. This webinar is packed with tips from Bob's 30+ years of coaching to help you succeed at any stage and period in your career – with or without a crisis.
Bob explained why investing in a CRM is a "no-brainer" as he answered questions from the audience, sharing his insights and best practices for using technology such as CRMs and virtual tours, how to succeed during a crisis, and how your focused efforts during any crisis will greatly impact your future success. Bob also shared his thoughts on why our current crisis is very different than the recession of 2008, why the market will remain a sellers' market, and why agents should be very optimistic.
Watch The Webinar
Go to the webinar recording >
Key Takeaways
Tools and Technology
Agents must have their own IDX website tied to a CRM to succeed in growing their business, even if their broker is providing an online presence for them. Your CRM is your hub of your business activity and making it part of you workflow is critical to your success.
Artificial intelligence is being used successfully right now in features like iHomefinder's CRM with Marketing Automation to predict what listings leads will be interested in, sending relevant listing recommendations and market stats to incubate leads and keep agents top-of-mind with their leads.
Virtual tours are definitely working for agents, helping them to close, increasing exposure to listings, and attracting new leads. Agents are sharing property tours in a number of ways with Facebook being one of the more popular tools, due to its ease and reach.
Tactics
People who agree to outwork their competition during times of crisis will see a dramatic increase in production in the following 12 months.
Your most powerful marketing tool is making phone calls, asking the right questions, and following up. You can't expect your website and automated emails to do everything for you.
Facebook is a great channel for its potential reach and it's a good place to share links back to content on your site, such as listings, market reports, and other content that helps buyers.
Radio and television advertising should not be overlooked. Television is "huge" right now.
Clients waiting to buy because they're expecting another buyers' market should be encouraged to act now. Unlike the recession of 2008, all current conditions point to the market remaining a seller's market despite the current crisis.
Resources
Schedule A Demo
Reserve a personal 15-minute demo & consultation with an account executive.
Free Trial
If you don't have an iHomefinder account, start your 30-day free trial which includes our Agent CRM and Optima Leads, our mobile app for agents.
Upgrade Your Account
If you have an agent account plan, you can activate the CRM in your IDX Control Panel (shown below). Underneath "Try our CRM", select the green "Learn more" button. Once activated, you can use the CRM without charge for 2 weeks.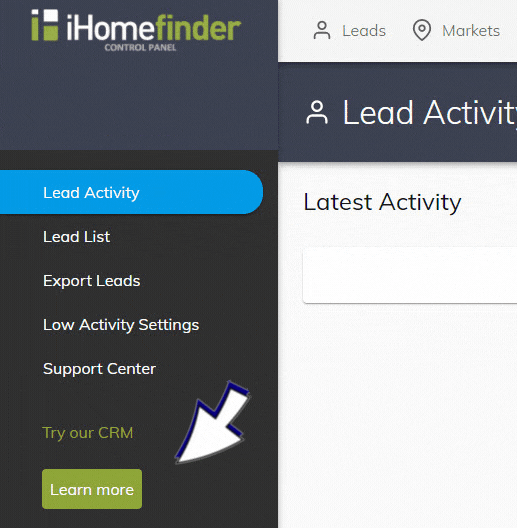 Watch A Webinar
Save your spot for our next monthly webinar for an introduction to iHomefinder account features and benefits, or watch a recording.
Support
Our Support Center is full of resources like our searchable Knowledge Base and training webinars to help you get the most value from your account.
Contact Us
Send us your questions, we're here to help!
---
Recent Articles
https://www.ihomefinder.com/wp-content/uploads/2020/04/tips-for-agent-success.png
1414
2000
Admin
https://www.ihomefinder.com/wp-content/uploads/2022/02/ihf-logo-transparent-200x76-1.png
Admin
2020-04-15 18:09:33
2021-12-22 12:46:06
Real Estate Agent Tips From A Veteran Coach