The fall and winter months are a time where productivity can easily take a hit for real estate agents. The holiday season can create a myriad of distractions , however, there are many things that you can do to stay productive during these months. In today's blog post, we're going to discuss ten productivity tips for the fall and winter months.
Stay Organized
One of the most effective ways to stay productive during this time is to stay organized. Invest in a planner or software that can help you manage your schedule. This will help you prioritize tasks and stay on top of deadlines.
Set Goals
Goals provide a sense of direction and motivation. Set specific and measurable goals for your business, including lead generation, listings, appointments, and sales.
Leverage Technology
Utilize technology and automation to streamline tasks and make your work easier. Our Agent CRM can be a great help in this regard with advanced lead management and much more. Considering take this slower time of year to add new Tags that will help you filter and locate leads by criteria you choose. Segmenting leads is a powerful tool for effective call campaigns or custom email campaigns with information or announcements relevant to your leads' interests.
Learn Something New
Use the fall and winter months as an opportunity to learn something new. Attend training sessions or conferences to gain new skills and knowledge.
Network
Networking is essential in the real estate industry. Attend events and stay in touch with past clients and colleagues. Check out these 6 networking tips to put together your own networking plan.
Stay Active
Staying active is crucial for both physical and mental health. Take a break from work and go for a walk or exercise to rejuvenate your mind and body.
Stay In Touch With Clients
Every contact in your database should be in some kind of email or text message campaign that offers insights about market activity. This educates them about market activity while keeping you top of mind. Set up each of your leads with custom listing alert emails that cater to their property location, pricing, and feature interests.
Seek Mentorship
Find a mentor who can guide you and offer valuable insights about your business. Research and consult with real estate coaches if want to get your business to the next level faster. If you haven't already, check out the recordings of our very popular coaching webinars with Bob Corcoran. They're packed with tips and insights from his 30+ years of being an award-winning real estate state coach.
Consistently Evaluate Performance
Regularly evaluate your performance to gauge your progress towards your goals. This will help you identify areas for improvement and make necessary adjustments. For example, our Agent CRM will show you which lead sources are the most productive so you can optimize your ad spending. You can also see the number of contacts you have in each stage of your pipeline, helping you to focus your efforts on the areas that need attention.
Take Breaks
It can be easy to get burnt out during this time, so make sure to take breaks and recharge when needed. This season is a good time to reevaluate the way you work every day. You might be surprised by what changes will make you more productive.
Summary
Embrace the power within you to turn the traditionally slow fall and winter months into a time of growth and productivity. The seasonal slowdown is not a setback, but an opportunity to refine your strategies, enhance your skills, and prepare for the year ahead. Use this time to track and assess your performance, plan ahead, prioritize tasks, and leverage technology to streamline processes. Remember, even in the quietest seasons, there are opportunities to be seized. Carve out time for personal development and relaxation, ensuring a balanced work-life schedule. In harnessing these strategies, you'll emerge from the winter months ready to take on the busy season with renewed vigor and an arsenal of improved tactics.
---
Resources
Schedule A Demo
Reserve a personal 15-minute demo & consultation with an account executive.
Free Trial
If you don't have an iHomefinder account, start your 30-day free trial which includes our Agent CRM and Optima Leads, our mobile app for agents.
Upgrade Your Account
If you have an agent account plan, you can activate the CRM in your IDX Control Panel (shown below). Underneath "Try our CRM", select the green "Learn more" button. Once activated, you can use the CRM without charge for 2 weeks.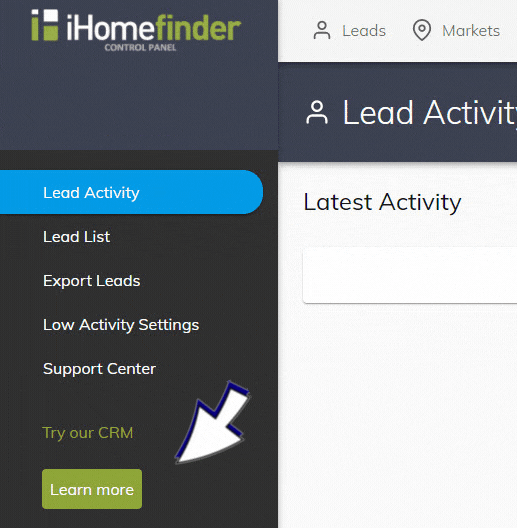 Webinars
Save your spot for our next monthly webinar for an introduction to iHomefinder account features and benefits, or watch a recording.
Support
Our Support Center is full of resources like our searchable Knowledge Base and training webinars to help you get the most value from your account.
Contact Us
Send us your questions, we're here to help!
---
Recent Articles
https://www.ihomefinder.com/wp-content/uploads/2023/10/agent-productivity-tips.png
1000
2000
Admin
https://www.ihomefinder.com/wp-content/uploads/2022/02/ihf-logo-transparent-200x76-1.png
Admin
2023-10-20 13:05:00
2023-10-20 13:05:00
10 Tips To Make Your Fall & Winter More Productive